Our core belief in sustainability
Sustainability is one of the core issues influencing society today. Therefore, we do take great care in ensuring a sustainable approach in all our actions.
According to our own "Circle of Green Forest" principles, we plant our trees in consideration of the shape and characteristics of the local area. We process the cypresses that have been carefully cultivated over more than 50 years, in a very traditional way. We log them in our own sawmill and dry them in the sun for three months before burning them to bring out the beauty and characteristics of Yakisugi.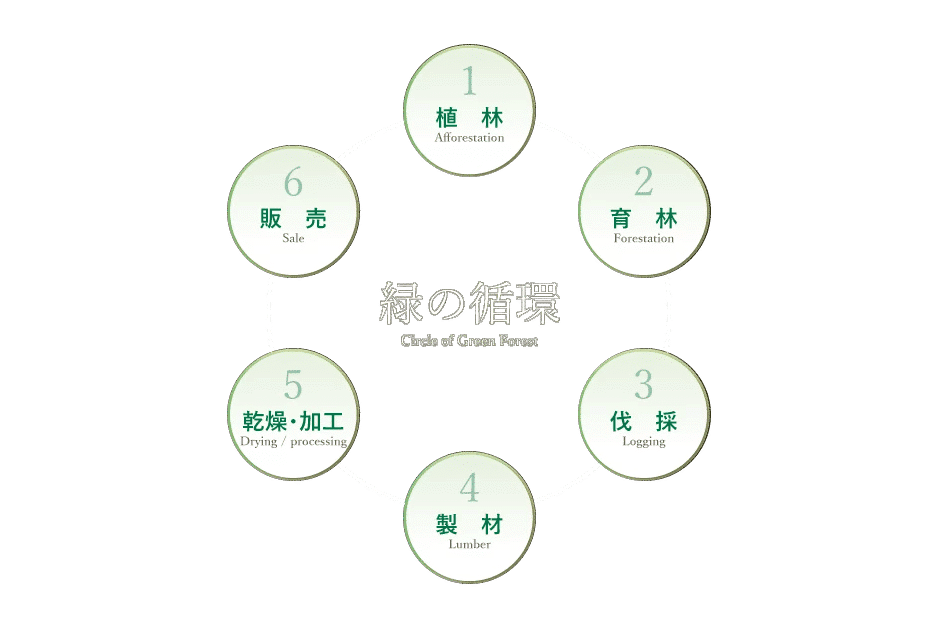 Our sustainability certifications
Nakamoto Forestry is a Tokushima-prefecture accredited timber producer and is SGEC-certified since 2006 (SGEC – Sustainable Green Ecosystem Council of Japan). Its affiliated WoodOne Co., Ltd., is FSC-certified since 2010 (FSC – Forest Stewardship Council). Additionally, we just recently acquired the Eco leaf label certification. This certificate follows global Life Cycle Assessment (LCS) standards and assesses the carbon footprint of our products. According to this assessment, production of our Yakisugi products from cradle-to-cradle, including supply, transport and manufacturing, generates carbon emissions of 2,1 kg co2-equivalents per square meter. Given the fact that 1 cubic meter of wood binds approx. 1 ton of co2-equivalents (which translates into 15 kg co2-eq per square meter in a board like ours 15mm thick), the use of our products contributes to an overall CO2 reduction of >10 kg per square meter.
Moreover, our European distribution company, GoodWood GmbH based in Düsseldorf, Germany, has just recently completed the audit to acquire the PEFC label (PEFC – Programme for the Endorsement of Forest Certification Schemes). PEFC certifies that we observe all relevant rules and regulations to ensure sustainability in forest management.  We take great care of our management systems to foster eco-friendly behaviour and to reduce environmental burden. For example, all our sample box packages are made from 100% recycled paper. Furthermore, we reduced ink by utilizing laser engraving. Our corporate brochure is made from PEFC/FSC certified paper and ultimately, we contracted our logistics service partner DHL for carbon-neutral shipping to support them in their "Go Green" climate protection programme.
To find out more please contact us anytime here