Our Yakisugi products (Shou Sugi Ban products) 
Our Yakisugi products come in three basic traditional surfaces: Suyaki (original charred), Gendai (brushed once), and Pika-Pika (brushed twice).
Nakamoto Forestry Europe inventories all three in multiple grades, profiles, and oil finishes at our workshop. That's how we are able to deliver quickly and service your projects across Europe on time. Furthermore, we offer the three surfaces in a variety of dimensions, wood grades, profiles, and oil prefinishes. Please inquire about our currently available stock.
Each board is expertly graded by hand to the specific end product at each step in production, and boards that warp, check, or are otherwise blemished are deselected.  Additionally, due to the nature of cypress we putty with resin glue to minimize and repair loose knots, then finally apply earth-friendly, highest-grade oil prefinishes to bond in soot, achieve a customer-specified colour tone, and slow down the weathering process.
Profiles can be combined in different dimensions.
Standard thickness is 15 mm.
Available finishes (examples):
Where to apply Yakisugi (Shou Sugi Ban)
Where to apply
Yakisugi
(Shou Sugi Ban)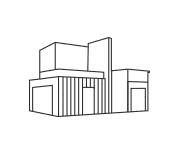 exterior & interior
The traditional way to use Yakisugi (Shou Sugi Ban) is as an attractive siding option. While its beauty and design uniqueness are spectacular, in Japan it is mostly used as a standard wood siding with superior characteristics. But its true attractiveness comes when combined with ambitious architecture, showing stunning effects through contrasts and the richness of colours.
exterior
Yakisugi fencing is a breath-taking addition to any outdoor space. They are found throughout Japan for privacy, functionality, or design purposes. Due to its texture and enigmatic beauty Yakisugi can often be found in landscape architecture –  offering a sense of continuity and structure extending from the indoor to the outdoor space. 
Decking, flooring, furniture, …

The beauty of Yakisugi products opens a variety of options. Everything which can be clad can be embellished by beautiful Yakisugi boards, e.g. doors, cabinets, gates, kitchen units, etc. The unique surface of Yakisugi gives every object a distinct look. Please contact us to discuss further on how you can make best use of our eye-catching Yakisugi products.