Our Yakisugi (Shou Sugi Ban) variants made from Japanese wood
Overview of our Yakisugi varieties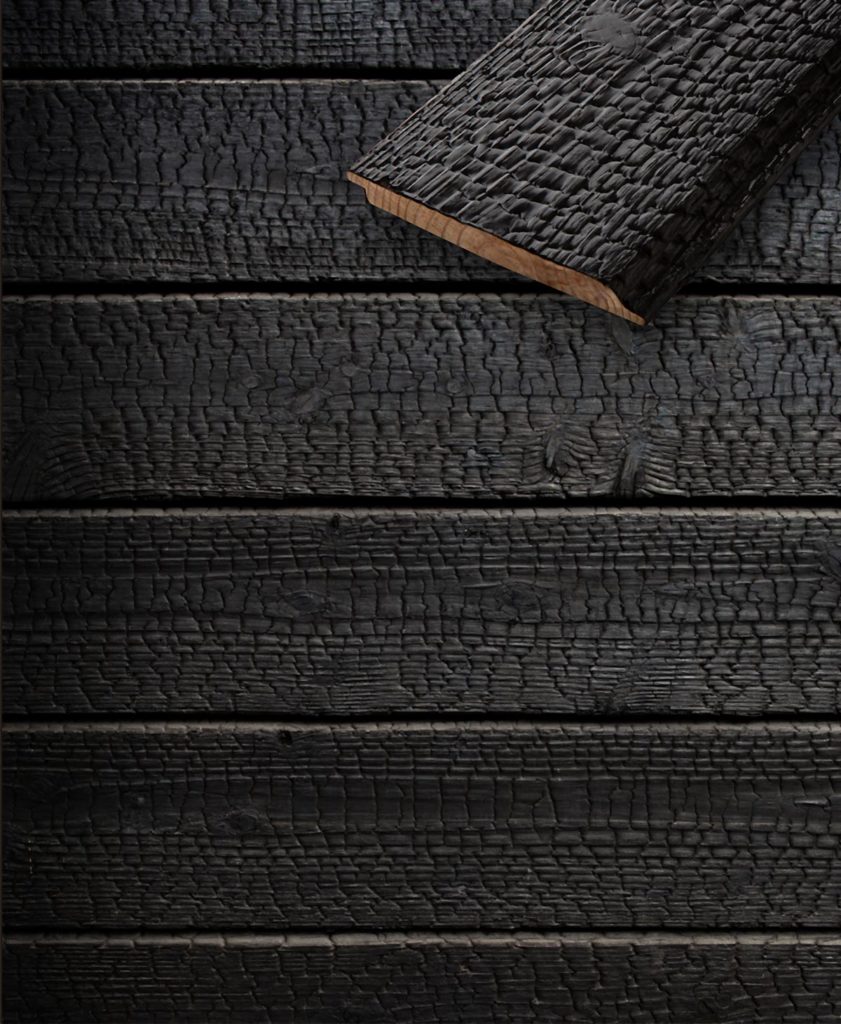 Suyaki is the original Yakisugi variety and the stand-out surface treatment. The firing process gives it a charred layer of midnight-black soot and its characteristic texture some compare to alligator skin. A definite conversation-starter and the choice for anyone who wants their project to stand out from the crowd.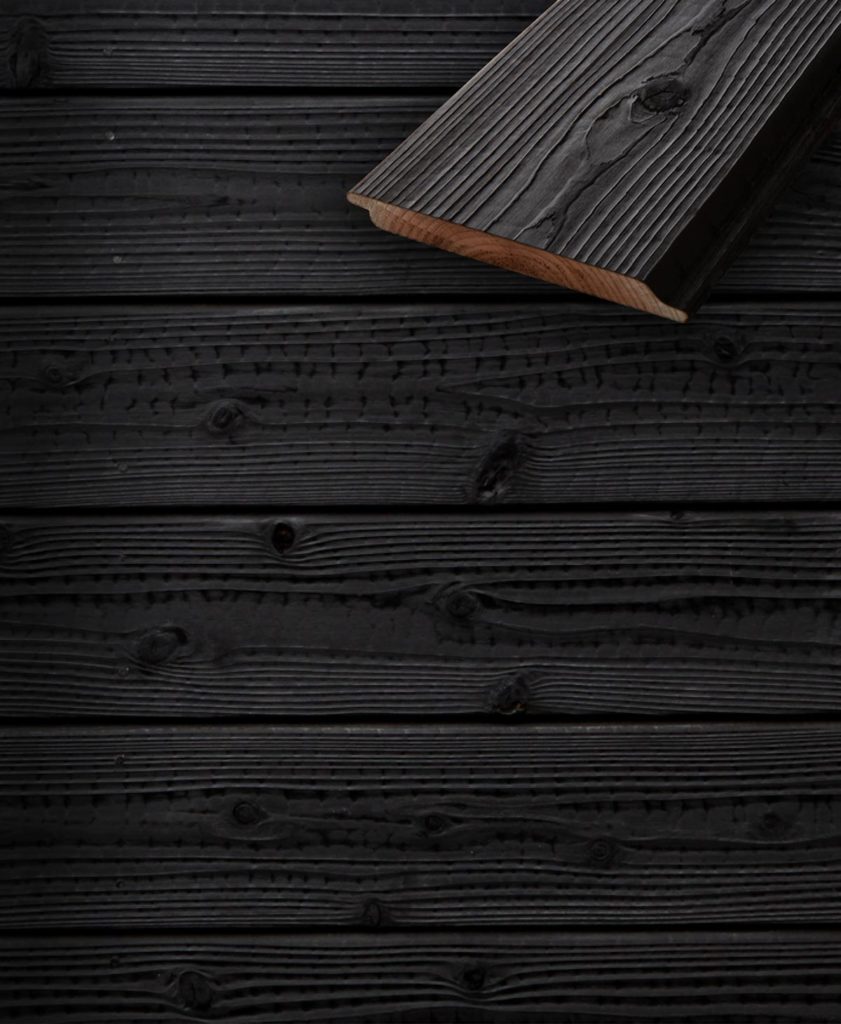 The silky-smooth finish of our Gendai products comes courtesy of a first-pass brushing of the soot layer, while subtly preserving the remnants of the charring process. This has become the go-to choice for many of our customers with outdoor installations and no wonder – it's ideal whatever your concept and project.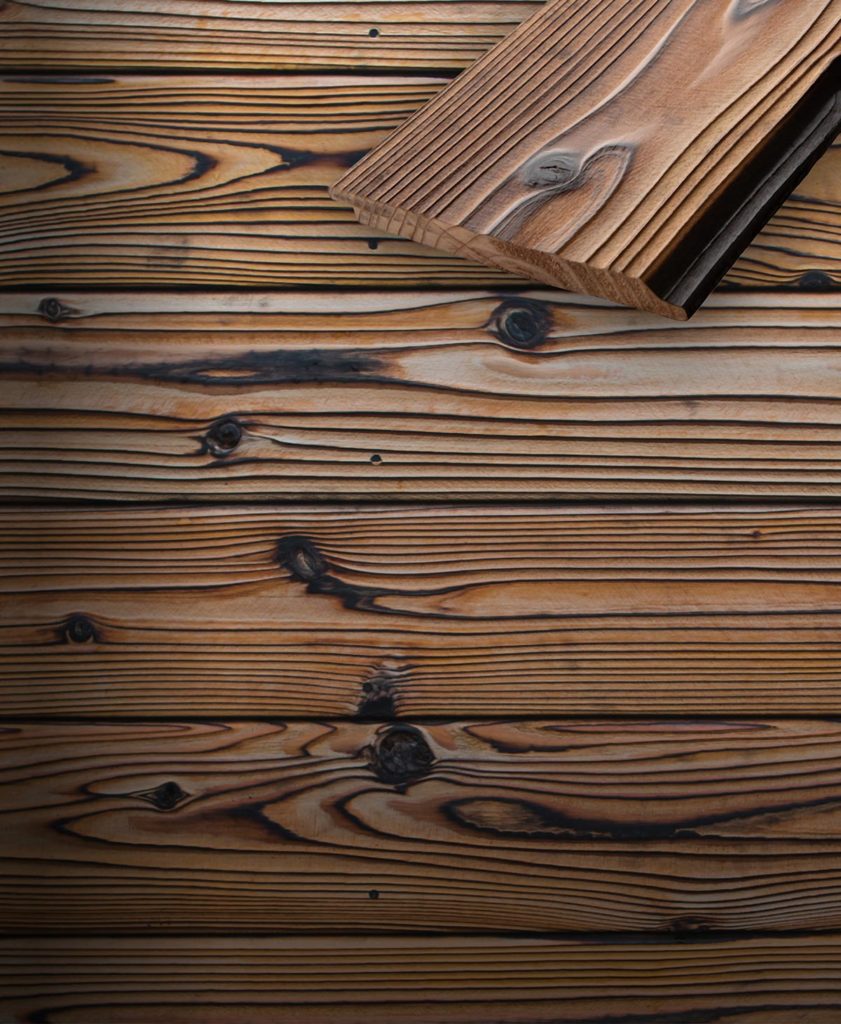 The vivid contrasts and uneven texture of wood given the Pika-Pika (a Japanese onomatopoeic word meaning 'shining' and often used for something visually appealing) treatment come after the soot layer of the charred wood is twice-brushed. Already striking in its natural state, brushing twice along the wood grain intensifies its impact even more.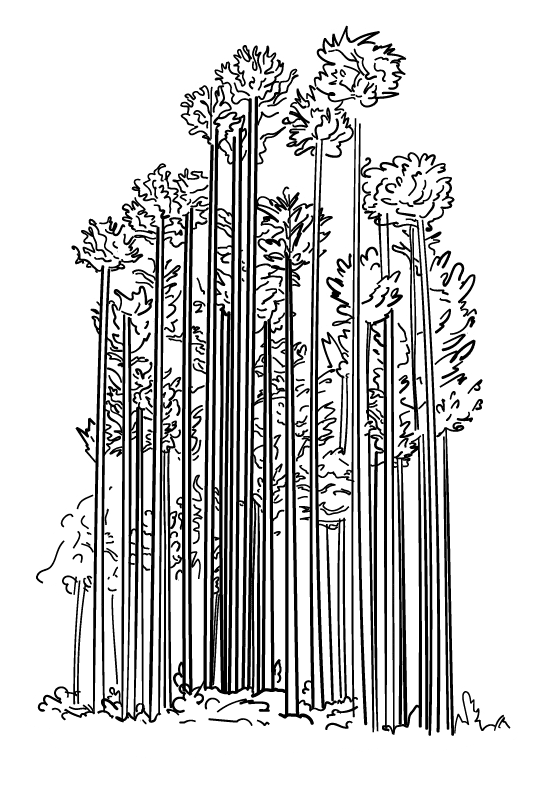 Three different surfaces and over 60 years of experience.
Rest assured though that whatever surface you end up choosing, the methods Nakamoto Forestry have embraced and honed over centuries deliver products that are more natural, durable and of higher quality than anything else on the market. 
All the Yakisugi products in our range are 100% authentic and you can choose from three traditional surfaces, each given a different treatment. Namely Suyaki (original charred), Gendai (once-brushed) and Pika-Pika (twice-brushed). And at this point, we'd like to clear up one common misconception.

Despite what many manufacturers claim, the degree of charring remains constant among all the Yakisugi varieties. The only differentiating factor is whether and how often the leftover sooty surface of the wood is brushed. And unlike steak, we do not do 'light/rare', 'medium' or 'well-done' charring. For Yakisugi, you either char to the right level or not.   
The source of all genuine Yakisugi is Japanese wood, or Japanese cypress to be precise. Bringing it to fruition also depends on sawing and firing techniques that have been perfected over decades. With this workflow in place and the ideal wood variety to hand, you have the key elements you need to create the very finest Yakisugi products. Rounding off the recipe for every board that leaves our West Japan mills are abundant patience, precision, experience and unrivalled attention to detail.  
Ultimately, however, Yakisugi is (and remains) an all-natural product. As such, we preserve and value its individuality, while stopping at nothing to ensure exceptional quality. Indeed, exemplifying the excellence you would expect from a Japan-made product, any boards that reach Nakamoto Forestry with any kind of defect, cracking or warp, are consistently screened out from the main batch. 
Profiles can be combined in different dimensions. Standard thickness is 15 mm.
Our coatings – just as one-of-a-kind as your own projects
Our production facility near Düsseldorf is where the magic happens. And as you'd expect, we coat all our Yakisugi boards individually and tailored to customer requirements. We use natural and environmentally friendly wood oils of vegetable origin as well as solvent-free, water-based transparent and semi-transparent coatings from renowned European manufacturers. We can also enrich them with pigments on request, to reach almost any sought-after shade.

The primary purpose of the coating, as you'd expect, is to give each Yakisugi board the best possible protection, from inside. While the oil penetrates deep into the cells of the Japanese wood, nourishing and protecting it from inside, our coatings remain on top of the wood as an outer shielding layer. A beautiful and natural matt finish is what you can expect from our oiled surfaces. Then, when we apply the final coating, you can expect a subtle and satin-like sheen synonymous with high quality.
Whatever your final choice of Yakisugi surface treatment, coating the wood helps it withstand the stresses and strains of UV and weathering. For Suyaki surfaces, it also binds and strengthens the layer of soot and prevents sooty fingerprints staining the wood during installation. Last but not least, customers choosing Gendai and Pika-Pika can add individual colour accents of choice to perfect their projects. 
If you plan to install Suyaki indoors in areas of high human traffic, you also have the option of a water-based (thus solvent-free) multi-layer lacquer system, featuring a silk-matt gloss that brings out the texture as well as making the surface washable and even more resilient. 
Available finishes (examples)
Optional follow-up treatment –
help sustain your cladding colour
One question we are often asked is whether you need to maintain a Yakisugi façade regularly. As a general rule, no is the answer. You may be surprised to know that Japanese customers tend to avoid re-treating Yakisugi façades once installed, since the weather-related patterning that occurs over time is thought to have its own charm.  
But wood that won't weather doesn't exist and Yakisugi is no exception. You can expect it to change over the decades (or, as we prefer to say, evolve). Eventually, the bonded soot layer of the Suyaki variety will weather off and the impact of UV will see Gendai and Pika-Pika go grey. This process is primarily dictated by factors like location, climate, the surface area exposed to the elements and the presence or absence of surface protection. And while your Yakisugi, like people, ages over time, the durability of the façade will remain largely intact. In other words, the changes unfolding are more or less cosmetic. 
Even so, if you want to keep the product looking like it did when first set up for as long as possible, worry not! Applying wood oil or a coating is our go-to for mitigating the greying process. After that, based on experience, we recommend follow-up maintenance at five- to ten-year intervals. And you'll be pleased to know that it goes on like a dream with a brush alone. No need for the sanding, staining and priming many other products require. Feel free to ask if you need any further pointers. 
Yakisugi – three surfaces and tons of potential applications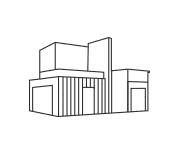 Exterior & interior
Whether for façades facing the elements or interior fixtures, Yakisugi is a timeless solution that the Japanese have drawn on for generations. It's a sustainable and durable alternative to modern building materials and lends itself effortlessly to private, commercial and institutional areas. And its inimitable contrast and depth help Yakisugi come to the fore, in modern architecture above all. 
Exterior
There are few better ways to beautify your outdoor space than a Yakisugi fencing solution made from authentic Japanese wood. Again, back in Japan, its visual appeal and practicality make Yakisugi a popular choice for privacy fencing. An all-natural material that blends seamlessly into natural surroundings, it provides privacy but also enhances the overall aesthetics of your landscape design. 
Claddings of all kinds

Yakisugi products are one of a kind, with countless possible applications. It's no exaggeration to say that Yakisugi can enrich any space or object that needs to be covered up. That means garages, doors, gates, kitchen fronts, cabinets and more. Just get in touch for the insights and input you need to work out which surface and coating best suit your project.